Tweet
I visited an exhibition  "Eco products 2010"(link Japanese only) at Tokyo Big Sight on December 10th.
Many companies apply the exhibition following the recent trend of ecology. Most of visitors were students or consumers with free entry fee, and the organizers of each companies are mostly CSR depertment to respond such consumers' interest.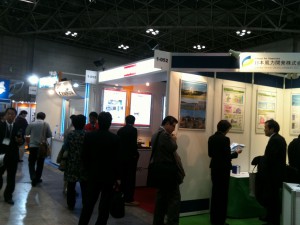 The most major topic at the exhibition was EV (electric vehicle). Free trial ride was available.


I rode Mitsubishi MiEV.
An EV is still to be improved in terms of cruising range and the price, but I am admired that the EV now becomes developed enough to run on a public road.
A mobile phone, which used to be a luxury item for limited people, have been widely spread. I believe the time will come soon when an EV will also be widely spread just like a mobile phone.
Cost down – sales price down – wide spread – fixed cost down for further cost down, is a basic cost down cycle, which is to be expected soon.
Our office supports a project to convert a regular gasoline car to an EV "100 Zero".
We believe this project will accelerate the cycle above with converting a regular car to lower-cost EV while a brand-new EV is still expensive.